Since winter seems to be here to stay, I've decided to share with you today a delicious and comforting soup recipe: my Split Pea Soup Recipe. This soup takes about 15 minutes to prepare, and is full of nutriments and protein.  What's great about using split peas is that you don't need to soak them overnight, you just rinse them, and they're ready to be used. Split peas make this soup so creamy and tasty.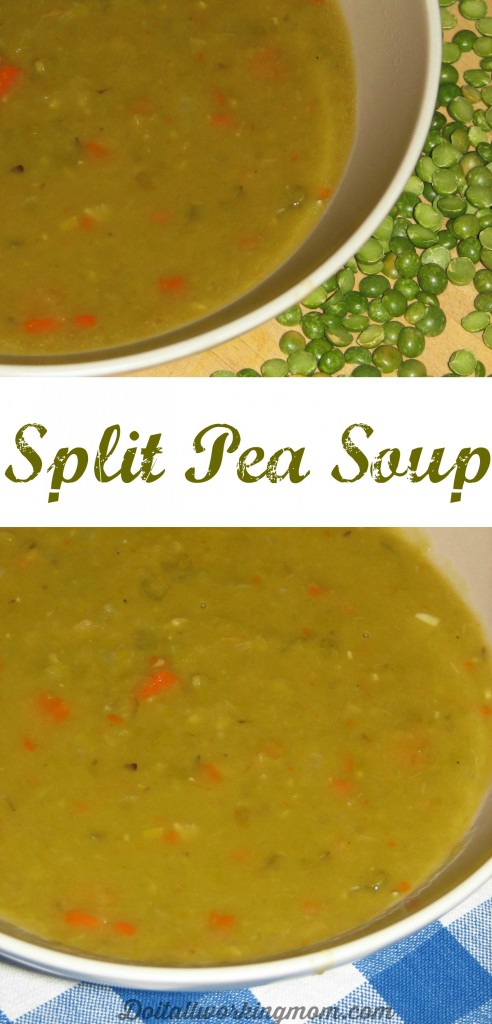 I served this soup for supper last night accompanied by my delicious paninis (here is the link to the recipe Panini sandwich and Cajun Mayo Recipe). It's always appreciated by everyone in my family, especially the kids!
Ingredients
2 cups of dried green split peas
1 onion, finely chopped
1 leek, finely chopped (white and light green part)
1 carrot, finely chopped
1 stalk of celery, finely chopped
1 clove of garlic, minced
4 tablespoons of olive oil
1 tablespoon of butter
1 teaspoon of dried savory
2 bay leaves
8 cups of chicken broth
2 cups of water
Salt and pepper to taste
Instructions
Rinse and drain the split peas.
In a large pot, heat the oil and butter over medium heat.
Add the onion and leek and sauté until translucent, stirring occasionally (about 5 minutes).
Add the carrot, celery, garlic, savory and bay leave. Cook for another 5 minutes, stirring when needed.
Add the peas, the chicken broth, the water, salt and pepper.
Bring to a boil, reduce heat to medium and let simmer for 60 minute, uncovered (until the peas are soft).
Add water if needed.
I love the fact that this recipe makes enough for the kids lunches for the week, I just heat the soup it in the morning, put it in a Thermos, and I know my kids are getting a hot and healthy meal they love.
If you enjoy soup, you might want to take a look at my other soup recipes:
There are so many soup recipes out there to choose from, but I can assure you, I only share recipes I personally love. So don't hesitate to try them. What's better on a cold or snowy day then eating a nice bowl of soup?
Enjoy!
 Thanks for visiting Do It All Working Mom.
(Visited 2,650 time, 1 visit today)