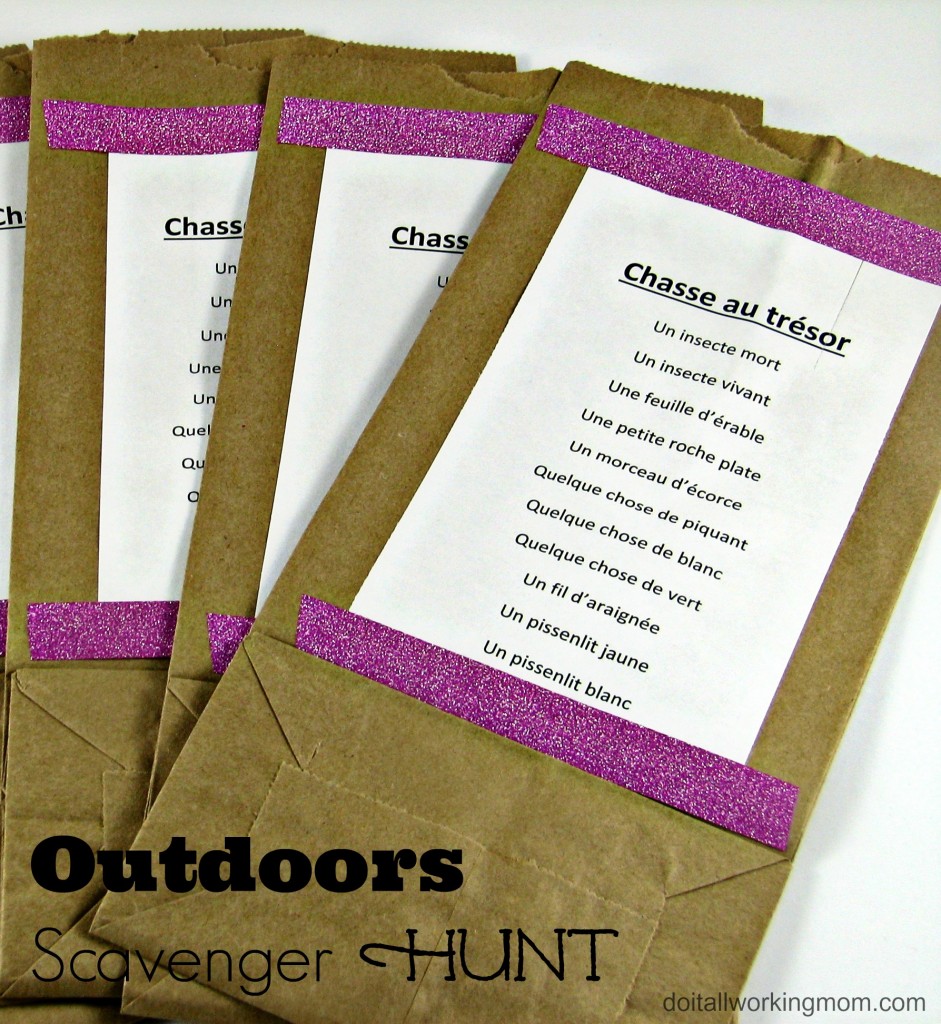 A scavenger hunt is such a great idea to entertain kids during a birthday party. I'm planning one for my daughter's 8th birthday party on Sunday. She's invited 4 of her friends to come celebrate with us. I think they'll love the scavenger hunt I've prepared for them
I've put together a list of items they will have to search for in our yard. I've glued that list to a paper lunch bag which makes it really convenient for them, because they can place the items they collect in the paper bag. I've decorated the bag with glitter tape, but you can decorate it with anything you want. Mine are really simple, but you can go as fancy as you want.
Since my daughter and her friends are French, the list of items to collect on the picture above is in French but I've translated the list in English for you:
Scavenger Hunt
A living insect
A dead insect
A maple leaf
A flat rock
A piece of bark
Something prickly
Something white
Something green
A spider web
A yellow dandelion
A white dandelion
You can do the same with indoor items if your party takes place in winter time, or if it's raining outside. Here are some examples of items to collect inside:
A button
A Safety pin
A coaster
Dental Floss
Something that starts with the letter A
A Keychain
A black sock
A key
A rubber band
A piece of toilet paper
A pen
Just copy and paste one of those list in a word document. Arrange it the way you like, and add color if you want. Print the list, cut it, glue it to a paper lunch bag and decorate.
My daughter has not seen the list yet, but she's really excited to search and collect all the items. The first person that comes back with all the items on the list, or the most items wins a little prize. I can't wait for Sunday, hope they all like my Outdoors Scavenger Hunt.
Thanks for visiting Do It All Working Mom.
(Visited 893 time, 1 visit today)