Who doesn't have old Mason jars in their cupboard? Well, these days, Mason jars are not only used to can food. As a matter of fact, the things you can do with Mason jars are endless. Today I've decided to show you how to make Painted Mason Jars. It's a really cheap, easy and beautiful way to decorate for any occasion. Whether it's for a wedding, Christmas, Easter, Valentine's Day, or just to brighten-up your house for spring, it's a great and pretty idea.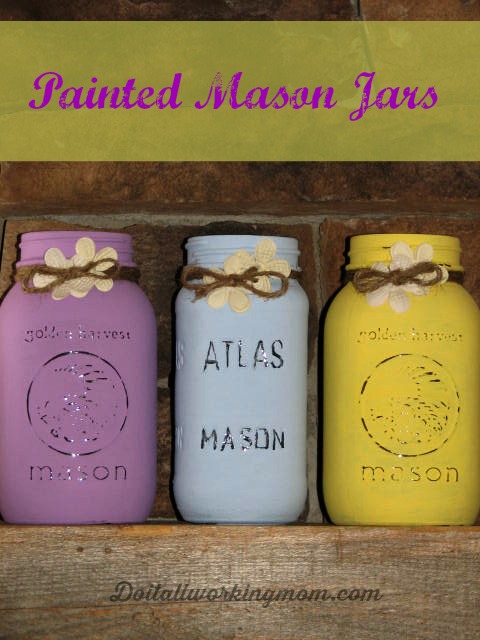 It's so simple to do; First, I used acrylic paint that I already had on hand, and gave the Mason jars two coats of paint, letting each coat dry completely. Then I used a nail file (you can use sand paper), and rubbed over the writing on the jars to gently remove the paint. It's that simple! You can then decorate the painted jars with burlap cord and paper flowers.
I can't wait until spring comes, and my first tulips come out. They will look even more beautiful in those jars.

Look how nice my mantel looks now, perfect for spring and Easter.
Here are more Easter decorating ideas:
Easter Decoration Idea – Painted Birdhouse
Easter Tree – Decorated Easter Branches
Thanks for visiting Do It All Working Mom.
(Visited 1,113 time, 1 visit today)