Yesterday the kids and I spent part of the day baking and decorating Christmas sugar cookies. We've been doing this every year since they were little. Those cookies are so much fun to make and even more fun to decorate.
This recipe is super easy to make and the cookies are delicious. My kids favourite!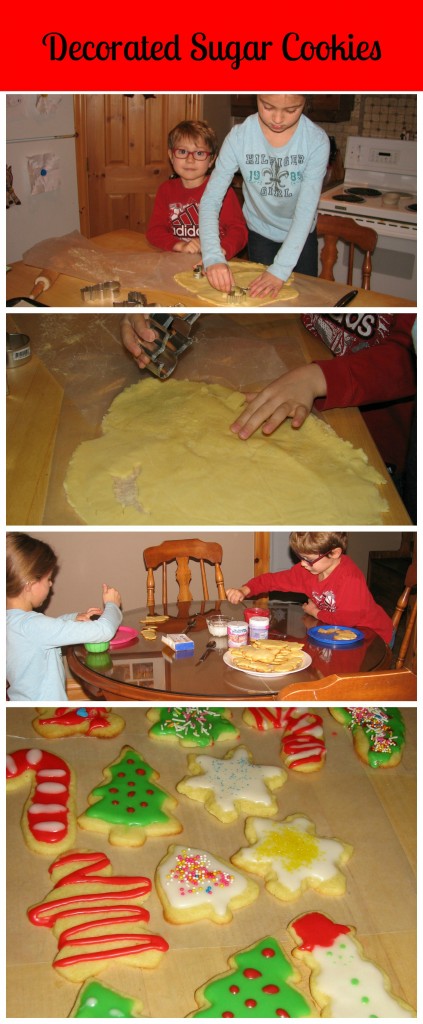 Ingredients
3/4 cup of unsalted butter at room temperature
1 cup of granulated sugar
1 whole egg
1 egg yolk
1 teaspoon of vanilla extract
1/2 teaspoon of almond extract (optional)
2 cups of all-purpose flour
1/2 teaspoon of baking powder
1/2 teaspoon of salt
With an electric mixer, beat the butter with the sugar, occasionally scraping down side of bowl, until light and fluffy (about 5 minutes). Beat in the egg and egg yolk, then the vanilla and almond extract. In another bowl, stir flower with baking powder and salt, then pour into the butter mixture. Stir in flour mixture until just mixed.
Divide dough into 2 portions. Shape each into a ball, then flatten into a disc. Working with 1 disc at a time, place between 2 sheets of parchment or plastic wrap, Roll dough to 1/4″ thickness. Refrigerate both disc until firm, about 20 minutes.
Preheat oven to 325 F. Remove dough from fridge. Cut out shapes and place on a baking sheet lined with parchment paper. Save scraps and re-roll. Bake in centre of oven, 1 sheet at a time, until cookies are lightly golden around the edges, 8 minutes.
Makes about 3 dozens.
Icing
1 cup powdered sugar
1/2 teaspoon vanilla or almond extract
3 tablespoons of water
Food coloring (optional)
Enjoy!
You can find more Christmas ideas here: Christmas
Thanks for visiting Do It All Working Mom.
(Visited 1,050 time, 1 visit today)