Choucroute Garnie is French for dressed sauerkraut. It's a dish originating from Alsace in France, and it's the perfect dish to celebrate fall and Oktoberfest.
I make Choucroute Garnie every fall, and my family loves it. All the different kinds on sausages and pork meat, cooked together with sauerkraut, white wine, apple juice and spices makes it an unforgettable and amazing dish.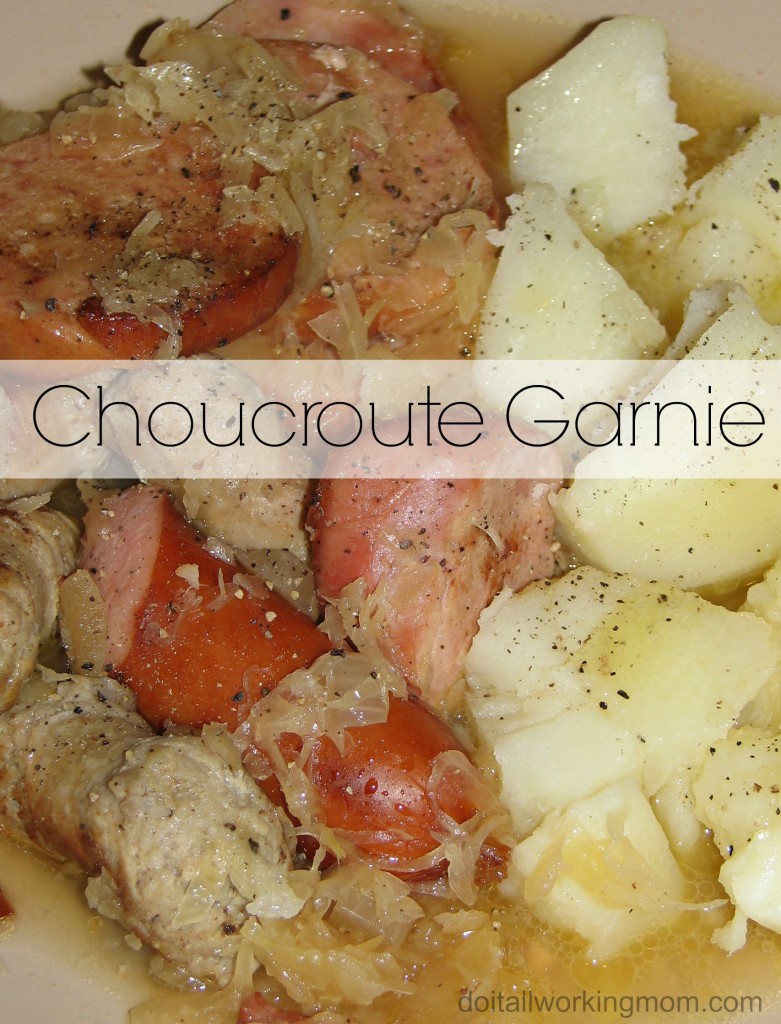 Ingredients
2 tablespoons of butter
2 thick slices of bacon cut in lardons
4 pounds of meat (thick slices of ham, large slices of pork chops, different kind of smoked sausages like Polish, Kielbassa, Knockwurst, Bratwurst…) Don't hesitate to cut them if you want.
2 chopped onions
1 jar of white wine sauerkraut rinsed and drained
1 cup of white wine
1 cup of apple juice
2 tablespoons of apple cider vinegar
1/4 teaspoon of allspice
Salt and freshly ground pepper to taste
Instructions
Place the rinsed and drained sauerkraut in a large baking dish.
In a large frying pan, melt the butter and fry the meat.
Place the meat over the sauerkraut.
Fry the onions at medium heat for about 5 minutes (without browning).
Add the wine, apple juice, apple cider vinegar, allspice salt and pepper.
Let simmer for a few minutes.
Pour over the meat.
Cover with aluminium paper.
At that point, you can refrigerate until ready to cook.
Cook in a preheated 350 degree oven for 45 minutes
Serve with different kinds of mustards, sour cream, boiled potatoes, white wine or beer.
Enjoy!
Thanks for visiting Do It All Working Mom.
(Visited 1,003 time, 1 visit today)