This Almond Maple Salmon is so easy to prepare and everyone in your family will love! Takes just a few minutes to put together and makes a delicious meal. This is perfect as a weeknight dinner or to entertain.
Ce Saumon aux amandes et à l'érable est si facile à préparer et tout le monde en raffolera! Seulement quelques minutes de préparation et il est parfait pour un repas de semaine ainsi que pour recevoir.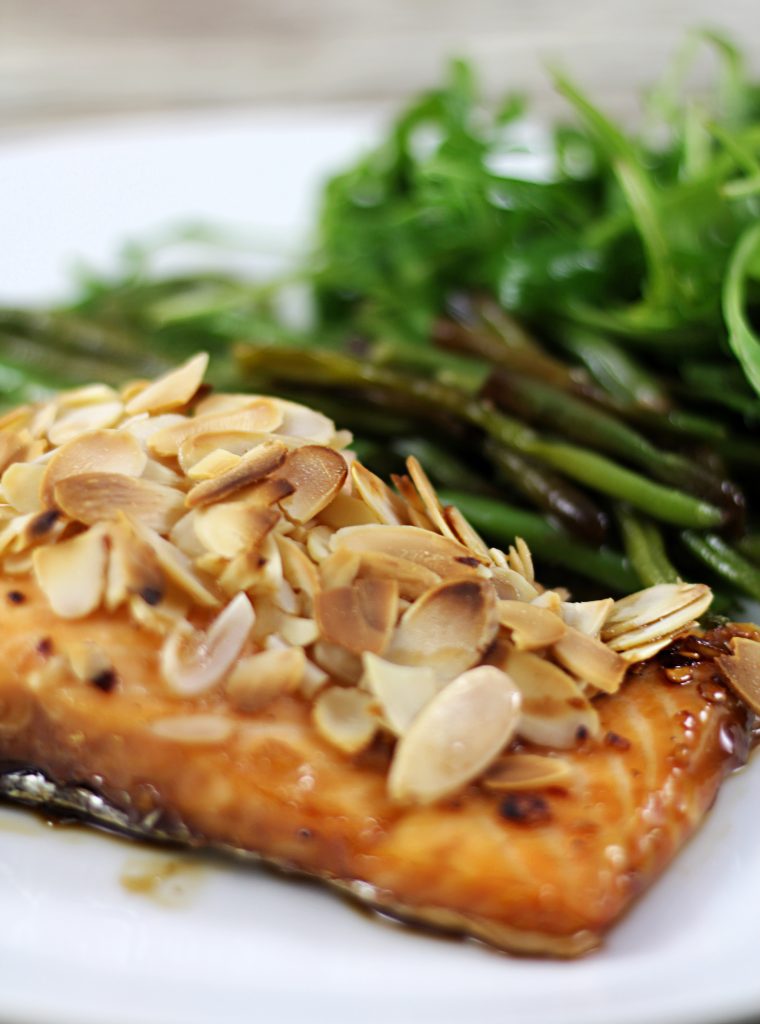 Ingrédients
1 large salmon filet or 2 smaller ones / 1 gros filet de saumon ou 2 petits
1/4 cup of brown sugar / 1/4 tasse de sucre
1/4 cup of maple syrup / 1/4 de tasse de sirop d'érable
1 tablespoon of soy sauce / 1 c. à thé de sauce soya
1/2 to 1 teaspoon of crushed red peppers / 1/2 à 1 c. à thé de piments broyés
1 teaspoon of lemon juice / 1 c à thé de jus de citron
2 garlic cloves chopped / 2 gousses d'ail hachées
1/2 cup of sliced almonds / 1/2 tasse d'amandes tranchées
1/2 a bag of frozen whole green beens / 1/2 sac de fèves vertes entières congelées
Extra virgin olive oil / huile d'olive extra vierge
Salt and pepper / Sel et poivre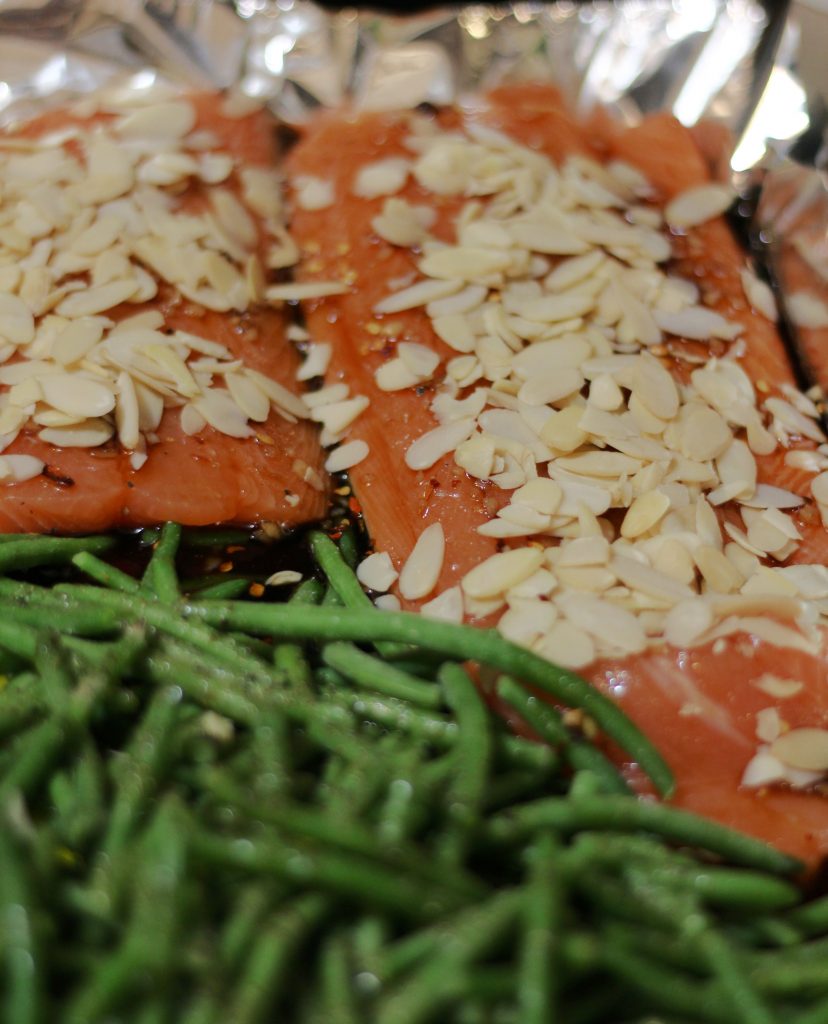 Instructions
1- Preheat the oven to 400 degrees F / Préchauffez le four à 400 degrés F
2- Line a baking sheet with foil and parchemin paper / recouvrir une grande plaque à biscuits avec du papier d'aluminium et du papier parchemin
3- Place the salmon on the baking sheet leaving room for the green beans and season with salt and pepper. / Placer le saumon sur la plaque en laissant de la place pour les fèves vertes et assaisonner avec du sel et du poivre.
4- In a bowl mix together the brown sugar, maple syrup, soy sauce, crushed red peppers, lemon juice and garlic. / Mélanger ensemble le sucre brun, sirop d'érable, sauce soya, piments broyées, jus de citron et ail.
4- Drizzle the syrup mixture on top of the salmon / Verser sur le saumon
5- Place the sliced almonds on top of the salmon / Placer les amandes tranchées sur le dessus du saumon.
6- Place the green beans on the same baking sheet beside the salmon. Drizzle the green beans with olive oil and season with salt and pepper. / Placer les fèves vertes à côté du saumon sur la même plaque. Recouvrir les fèves d'un filet d'huile d'olive, sel et poivre.
7- Cover with aluminum foil and cook for 15 minutes / Couvrir de papier d'aluminium et cuire 15 minutes.
8- Uncover and cook for an extra 10 minutes / Enlever le papier d'aluminium et continuer la cuisson pour 10 minutes.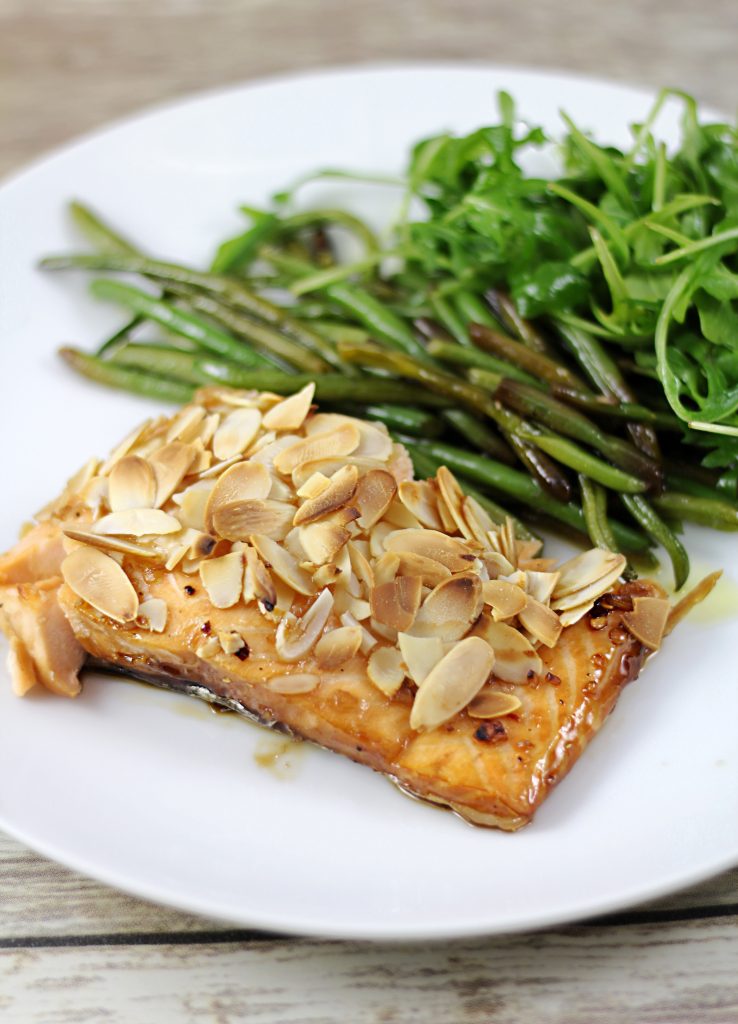 It's that easy and so good!!! Please take the time to leave me a comment to let me know how you and your family liked this recipe.
C'est aussi facile que ça et tellement bon! S.v.p. prenez le temps de me laisser un commentaire pour me laisser savoir comment vous et votre famille avez aimé!
Thanks for visiting Do It All Working Mom.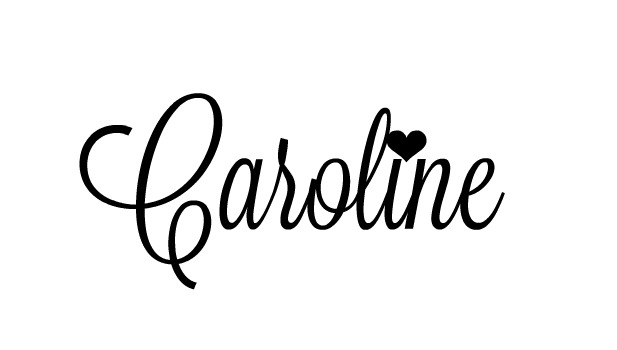 (Visited 343 time, 1 visit today)