I would eat nachos every day if I could. I just love this dish! What's not to love? Crispy corn chips, topped with cheese and  lots of other delicious ingredients. My Loaded Nachos have a special ingredients; bacon. Yes, bacon. This is definitely a recipe to try.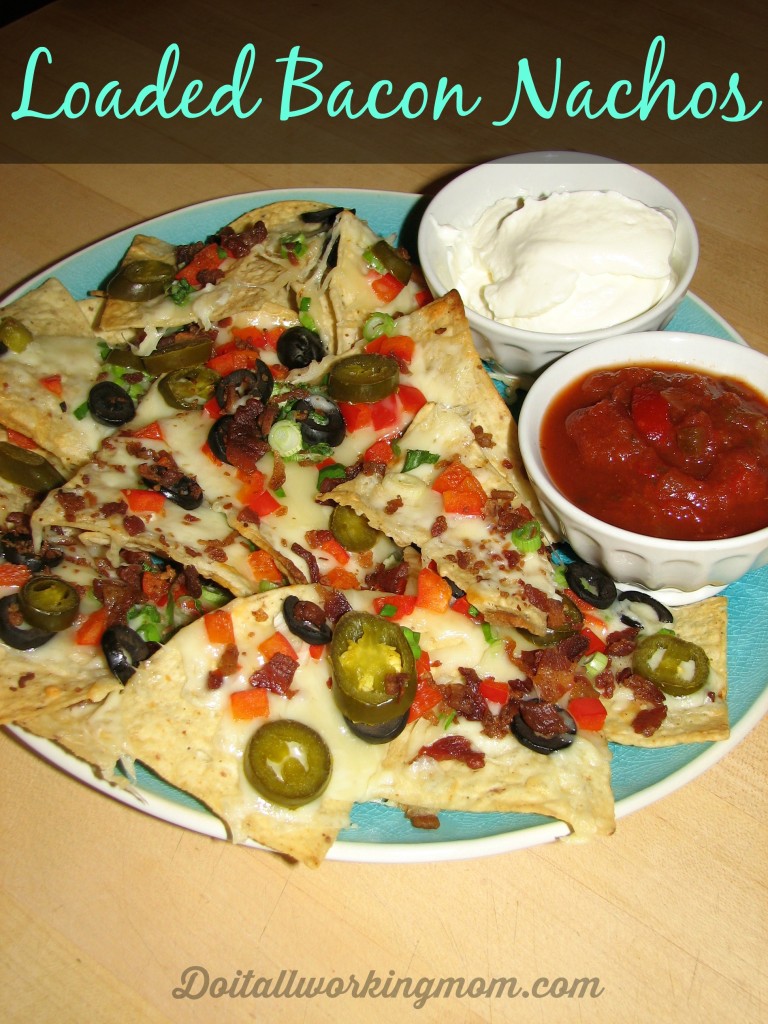 Ingredients
Tostitos Restaurant Style Nachos
Grated mozzarella cheese
Red bell pepper chopped
Green onions chopped
Black olives sliced
Real Bacon Bits or chopped bacon
Pickled sliced jalapeno peppers
Those are so easy to make, and so delicious. I did not specify any quantities because there's not really a recipe to follow. You just put the quantity you want depending on your taste, and the amount of people you're serving.
1- Place your nachos on a baking sheet lined with parchment paper.
2- Spread the grated mozzarella cheese on top, and spread the rest of the ingredients on top of the cheese.
3- Cook in a 400 F preheated oven for 5-10 minutes (until cheese is melted).
4- Serve with sour cream and salsas
You better make enough of these, because they disappear quickly! This is the perfect Super Bowl, or game night dish; you can also serve them as an appetizer.
Enjoy!
Thanks for visiting Do It All Working Mom.
(Visited 1,508 time, 1 visit today)