A co-worker gave me this cookie recipe a few years back and it's been one of my family's favourite Christmas cookie recipe ever since. I don't know where she got the recipe, probably from the Hershey website or Kraft website or maybe in a magazine, but I still want to share it with you because they're sooooo good!!!
If you haven't tried these blossom cookies yet, add this recipe to your Christmas To Do List. You can serve them to your family, guests, bring a platter when you're invited over for the Holidays or even give them as gifts to family and friends.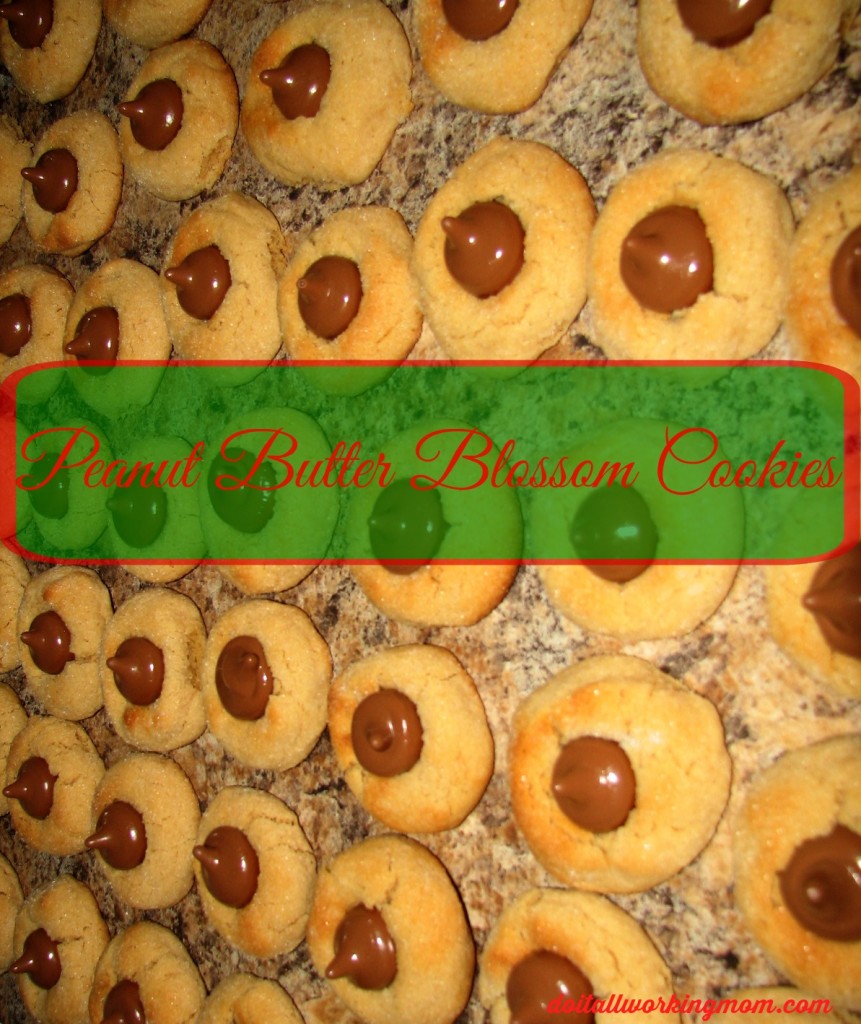 INGREDIENTS
1/2 cup of unsalted butter at room temperature
3/4 cup of smooth peanut butter
1/3 cup of light brown sugar
1/3 cup granulated white sugar
1 large egg
1 teaspoon of pure vanilla extract
2 tablespoons of milk
1 1/2 cups of all purpose flour
1 teaspoon of baking soda
1/2 teaspoon of salt
Coating
1/3 cup of granulated white sugar
Garnish
40 milk chocolate Kisses unwrapped
In the bowl of your electric mixer (or with a hand mixer), beat the butter. Add the peanut butter and sugars and beat until light and fluffy. Add the egg and vanilla extract and beat to combine. Beat in the milk. In a separate bowl whisk together the flour, baking soda, and salt. Add to the peanut butter mixture and beat until incorporated. Cover and chill the batter for about an hour, or until firm enough to roll into balls.
Preheat oven to 375 degrees F and place rack in the center of the oven.
Roll the batter into 1 inch round balls. Place the granulated white sugar in a shallow bowl and roll each ball in the sugar. Place on the prepared baking sheet, spacing about 2 inches apart.
Bake the cookies for about 8 to 10 minutes, or until the cookies are lightly browned. Immediately upon removing the cookies from the oven, place a chocolate Kiss in the center of each cookie, pressing down until the cookie just starts to crack. Cool completely on a wire rack.
Makes about 30-40 cookies
You can find more Christmas ideas here: Christmas
Thanks for visiting Do It All Working Mom.
(Visited 397 time, 1 visit today)