We've already been on vacation for a week now, boy does it go fast! During our first week vacation, we drove 7 hours away to Tadoussac Quebec for a little camping trip and whale watching.
Here is a little history on Tadoussac from Wikipedia:
Tadoussac (French pronunciation: ​[tadusak]) is a village in Quebec, Canada, at the confluence of the Saint Lawrence and Saguenayrivers. It was France's first trading post on the mainland of New France and an important trading post in the seventeenth century, making it the oldest continuously inhabited European settlement in Canada, and the oldest surviving French settlement in the Americas.

Jacques Cartier came to the site in 1535 during his second voyage, and found thereMontagnais hunting seal. Later that same century, it was visited by Basques, whaling on the river.[1]
Tadoussac is located on the north-west shore of the Saint Lawrence River, at its confluence with the Saguenay River. The cold, fresh water from the Saguenay and the warmer, salty water of the St. Lawrence, meet to create a rich marine environment. The rivers support an abundance of krill, making the area very attractive to whales.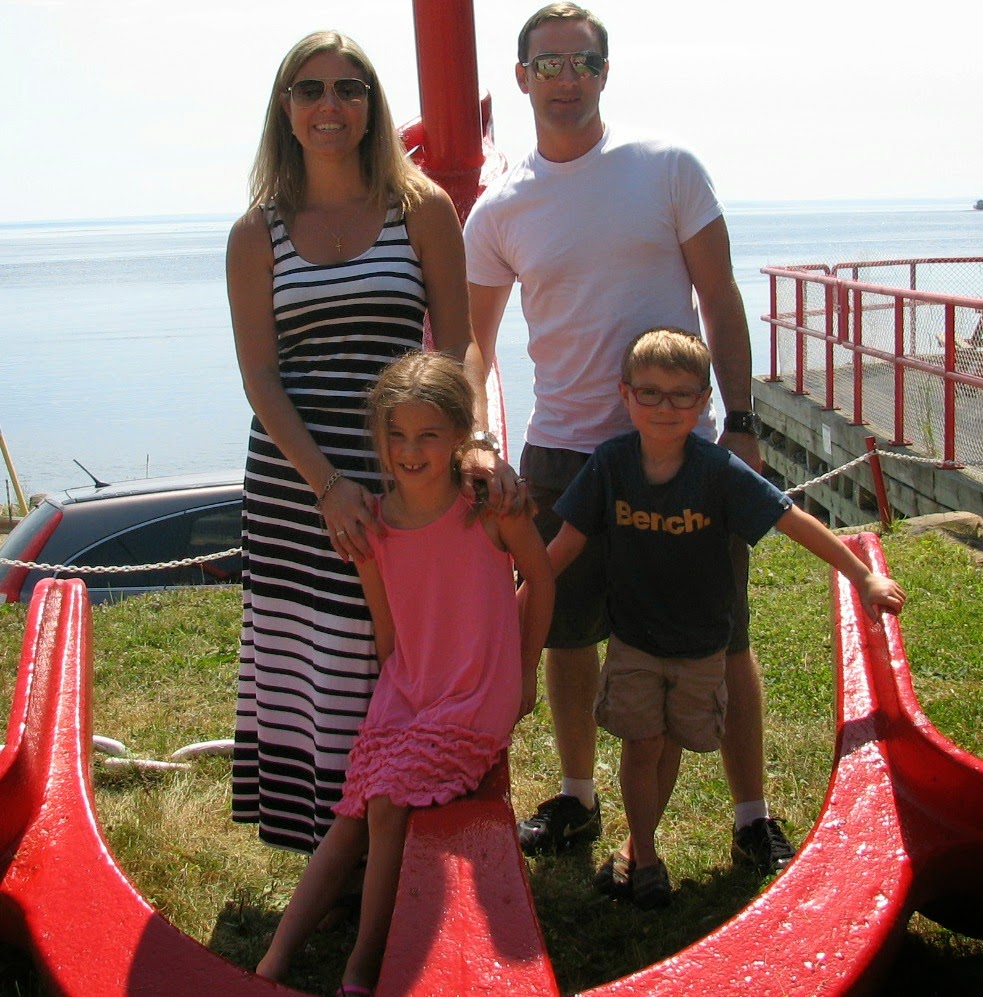 Before taking the ferry from Baie-Ste-Catherine to Tadoussac we stopped to have a little something to eat. We had been in a car for 7 hours, the kids did not sleep for one minute and were pretty fed up. At that point, I needed more of a drink then food but they did not serve alcool there LOL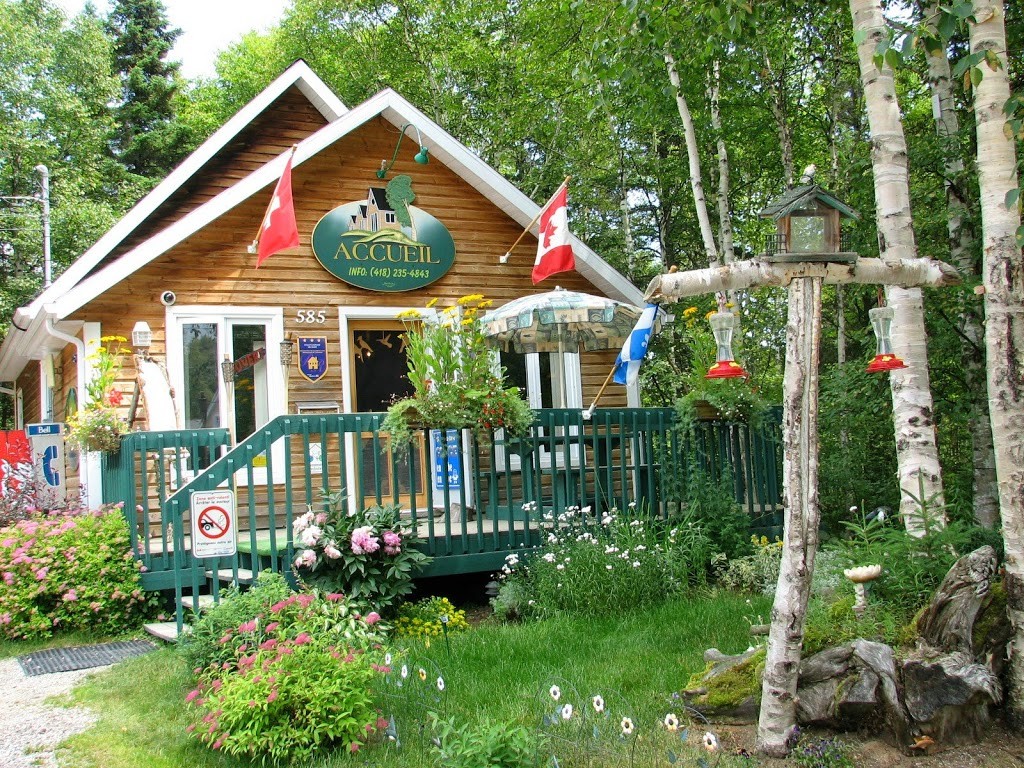 After a 7 hour drive, 15 minutes fairy ride, we get to our camping. We are so excited to set up our tent and relax, go visit a bit and go to the market to get some food for our supper. After checking in, the women lets me know that I can't access my camping site before 14:00 h. What? It's 12:30 h… Well, there is nothing we can do, the rules are the rules…. We decided (we did not really have a choice) to go visit the town a little.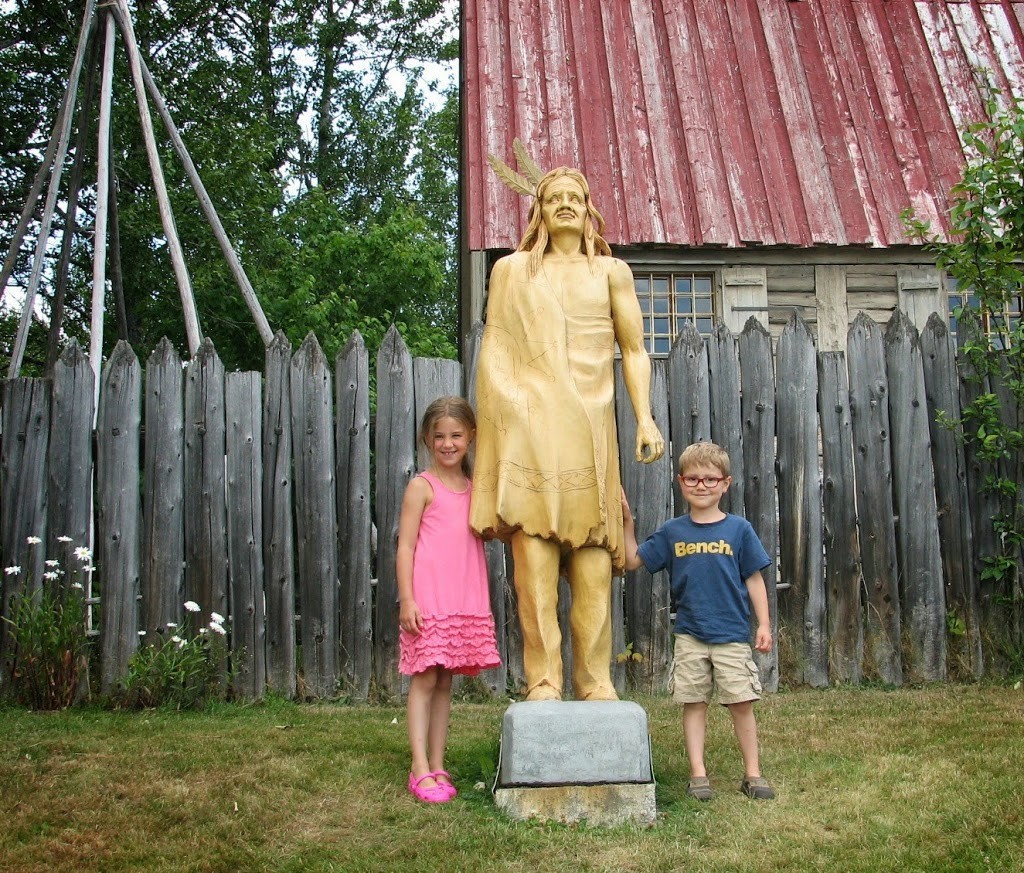 After about 20 minutes of looking for parking, we finally go out of the car to visit a little bit. It's a really nice little town. The picture above is the reconstructed trading post. It's fun to visit and see a piece of our history and heritage.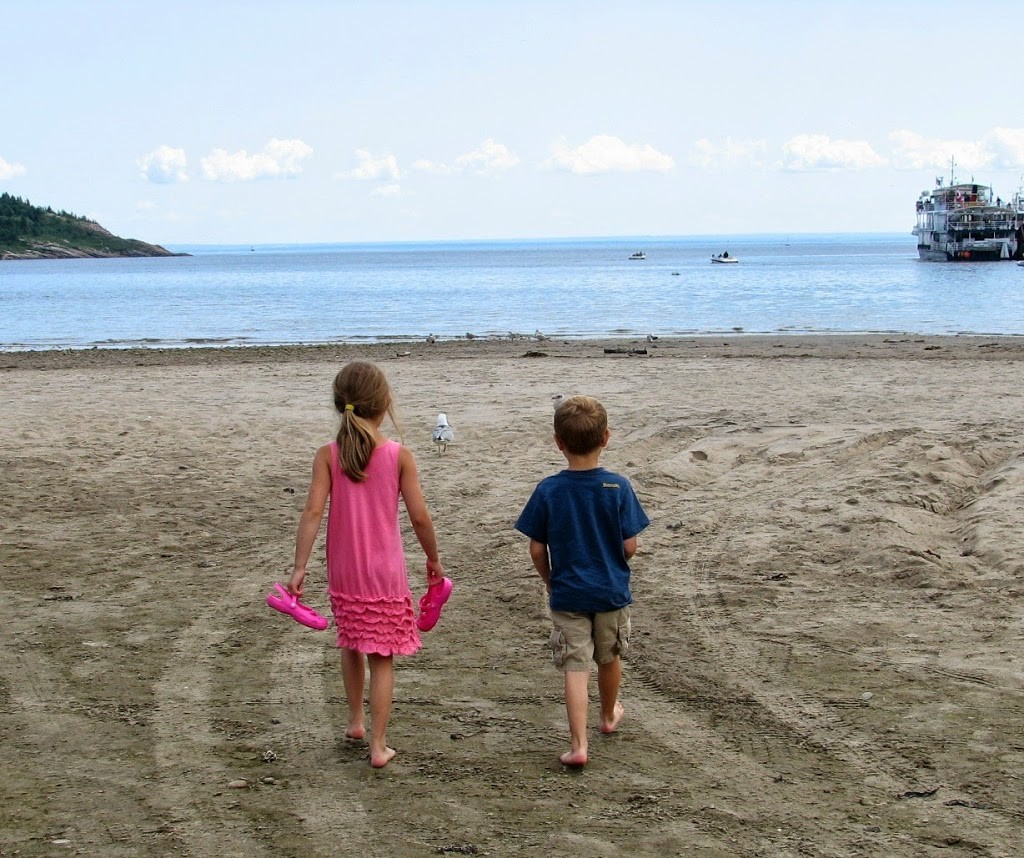 Then we did what the kids where wanting to do for so long, walk on the beach. I had told them they would be able to swim… Not really! The water is at about 40 degrees…. Another deception, but they still got to walk and play in the sand a bit.
I also told them they would be able to pick sea shells… they did found some but they were tiny, tiny….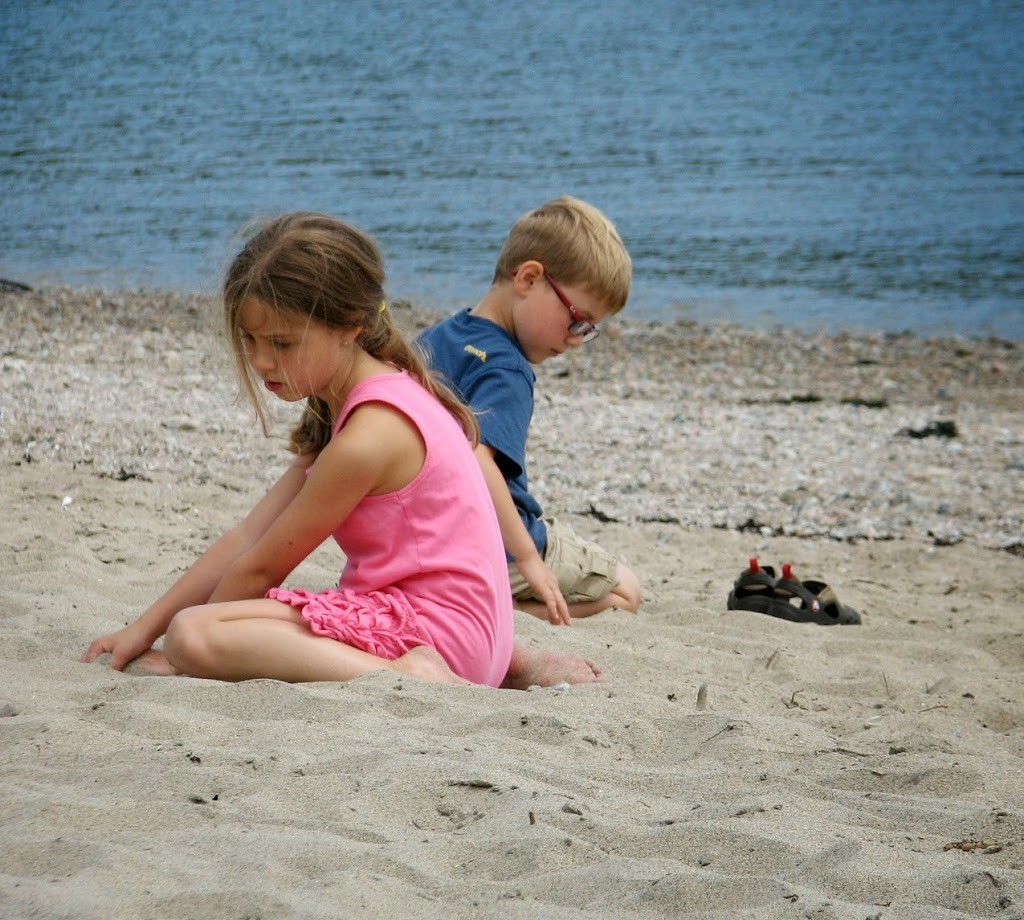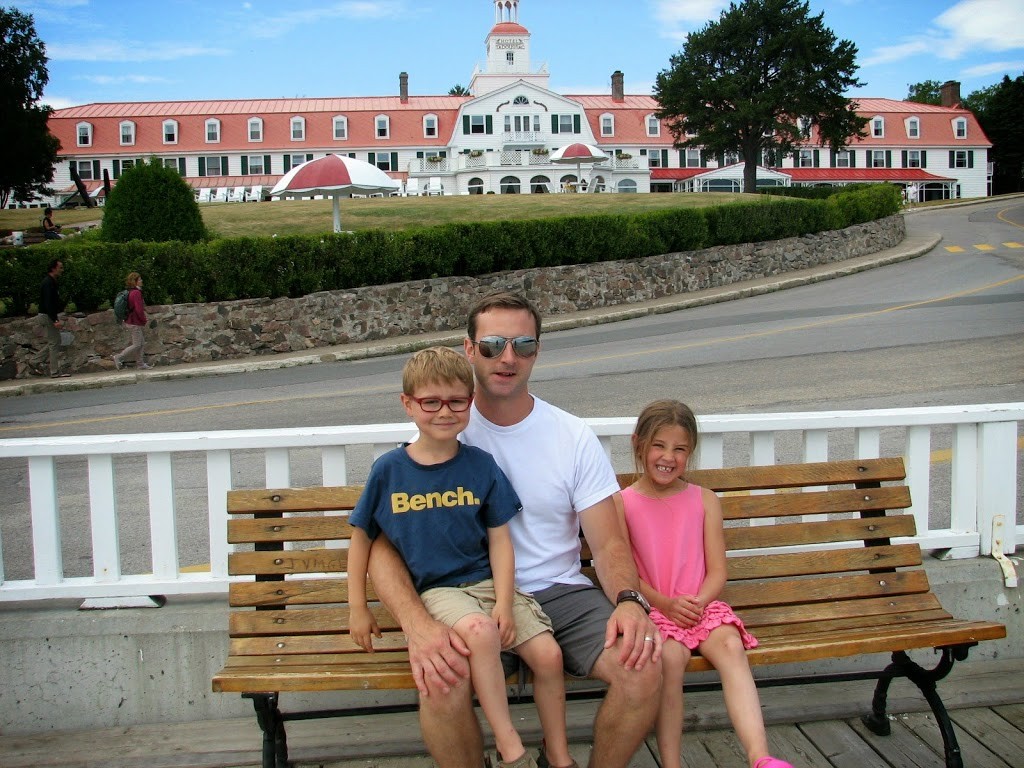 A great picture in front the Hotel Tadoussac. My biggest regret is not reserving there…. They have a pool, are right in front of the beach and in the middle of all the attractions, they have a shower, a bathroom… Why bother with camping?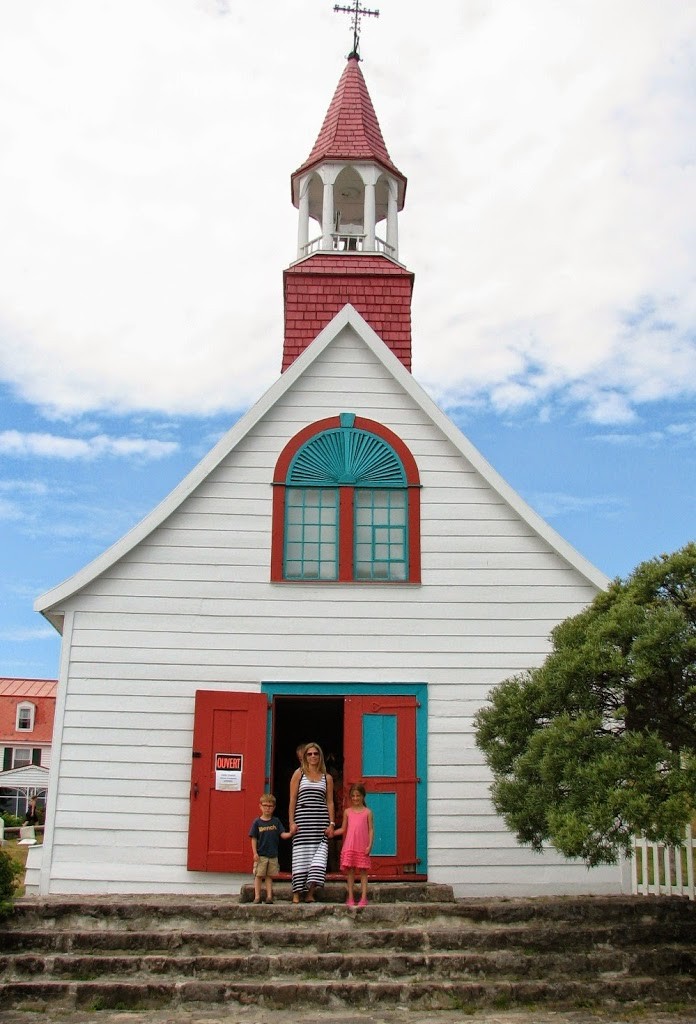 We also visited this nice little church. This old chapel is the oldest wooden church in Canada and USA.
We went to check out the dunes that foresee the Fjord du Saguenay. Really nice, I'm sure if we had stayed a little longer we could have seen whales from there.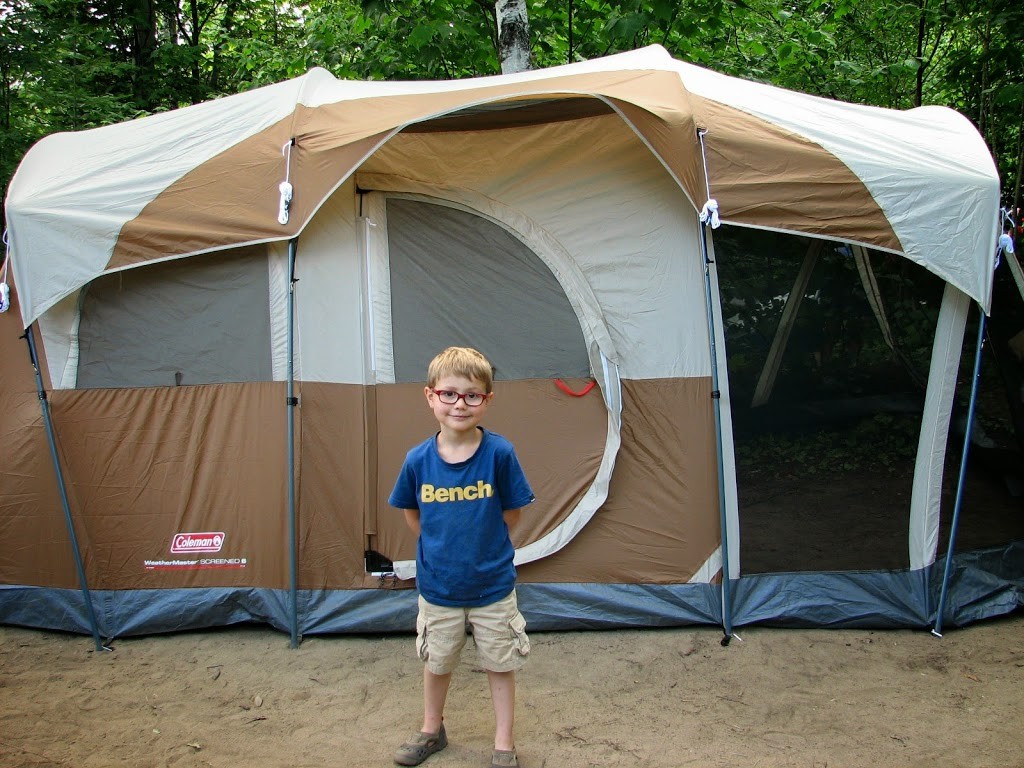 Tadadam! And the tent is up!!! We are almost all set up.
I'm just finishing to make the beds so everyone sleeps comfortably. Well, as comfortable as you can get in a TENT!!!
When I reserved, they told me they had sites with a great view. So that's what I chose. If we are going to be camping in Tadoussac, might a well have a view on the Fjord. What they forgot to tell me is that I had to take my car to go to the public washrooms, showers… Oh! they also forgot to tell me we were camping in dust (our feet were black after 1 min. in the dusty sand) and that they were building a Teepee with a chain saw right next to our camping spot!!!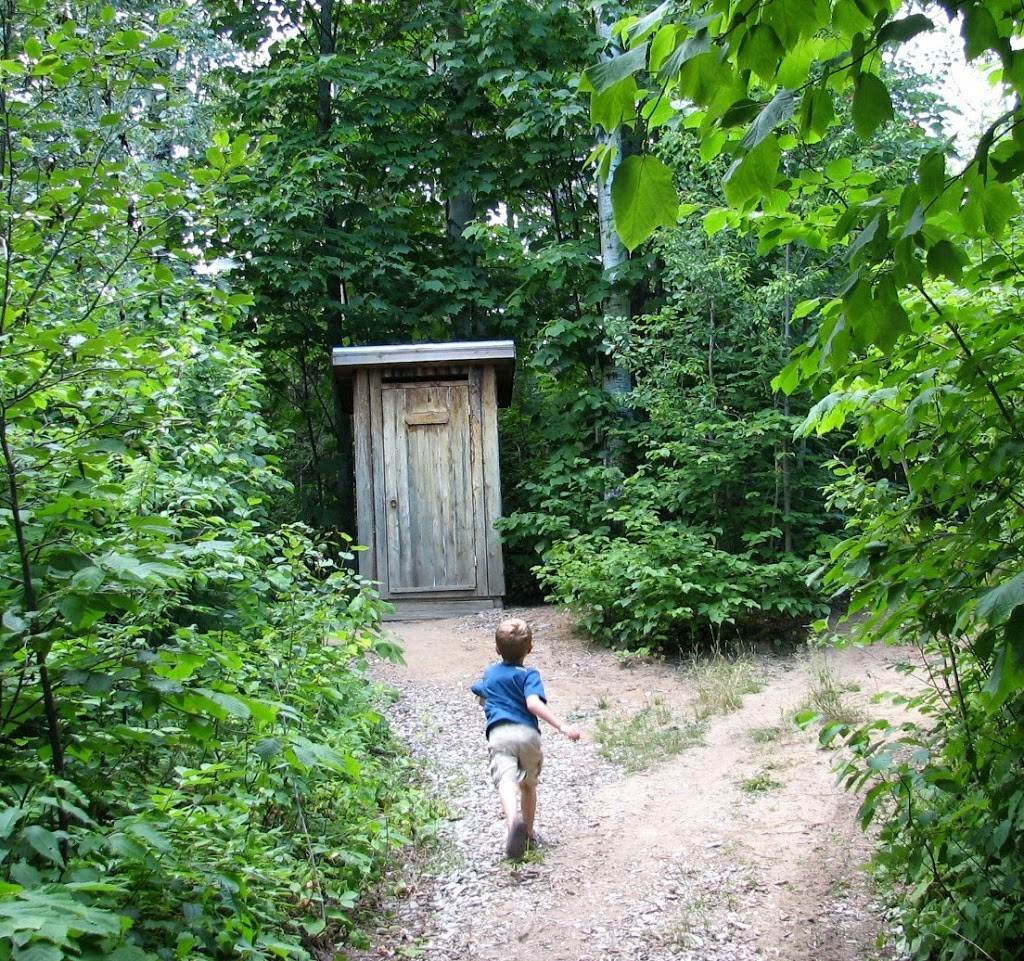 Well they did have that dry toilet available, but my son ran out of there as fast as he ran in saying: "mommy I can't go in there, it smells really bad LOL… Poor kid!
After a not so bad night sleep, we were ready to go see the whales!!! After all, that's the main reason we decided to go to Tadoussac.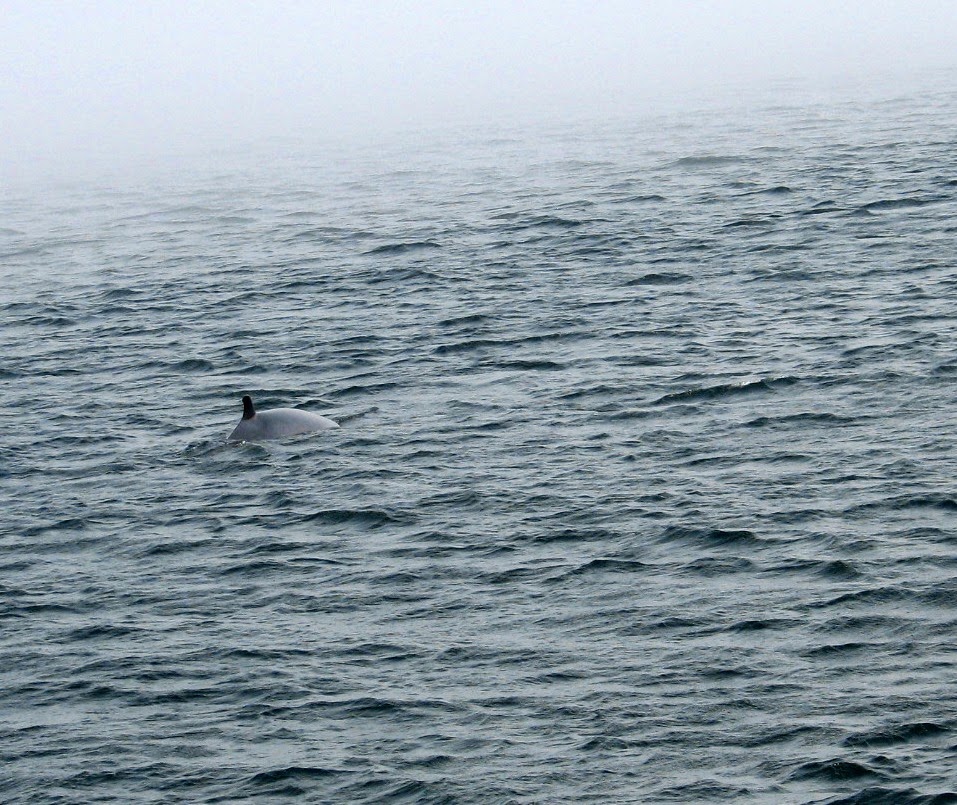 It was pretty expensive but was totally worth it. It's an experience of a lifetime. If we had not gone on that expedition, we would have been pretty disappointed about our trip, but instead, this made our trip! 
We saw lots of whales, 15 at least. It's really hard to take pictures but here is a sneak peek. We were even lucky enough to see a humpback whale, I was able to take a picture of it's tale threw the window of the boat. We also saw seals and belugas. Amazing experience!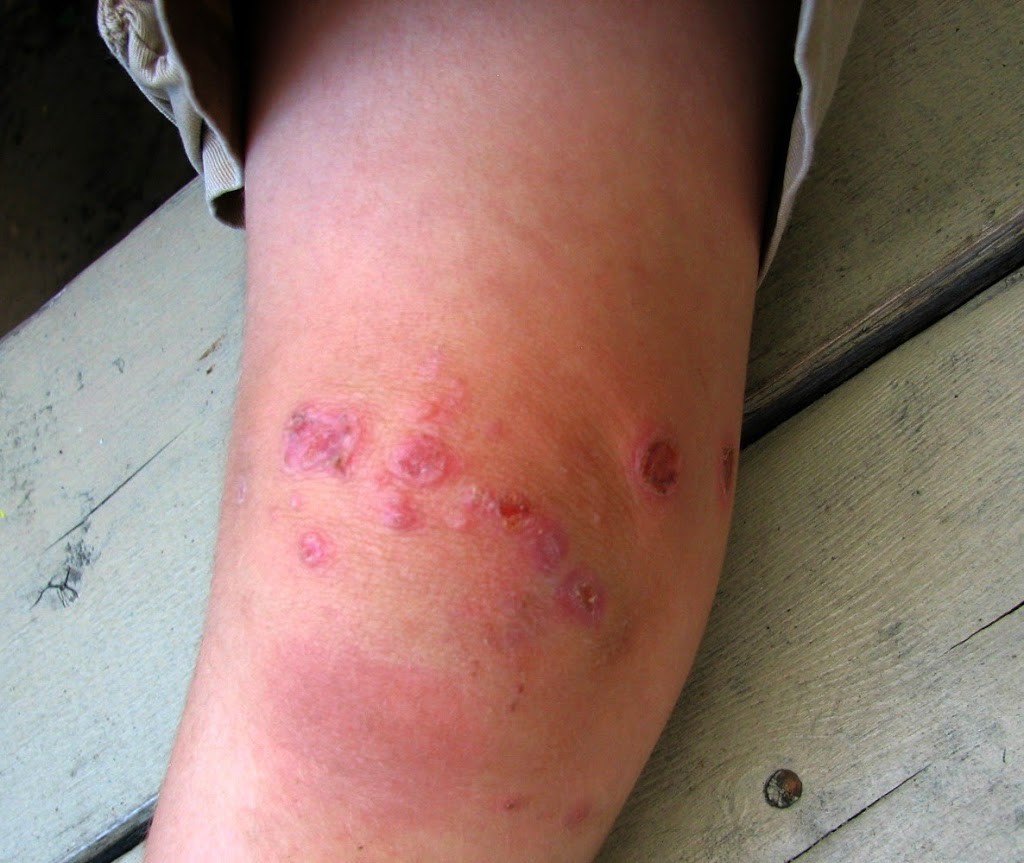 If you read my previous post, you know my son got poison ivy from day camp. That's a picture of his leg when we got to the camping on our first day. It kept getting worse and worse, and it started to get infected, so we decided to pack and find a Hotel with a Hospital close by just in case.We did not have to go to the Hospital during our trip, but I brought him to the Emergency when we got back home. They gave him an antibiotic cream and it's all good now.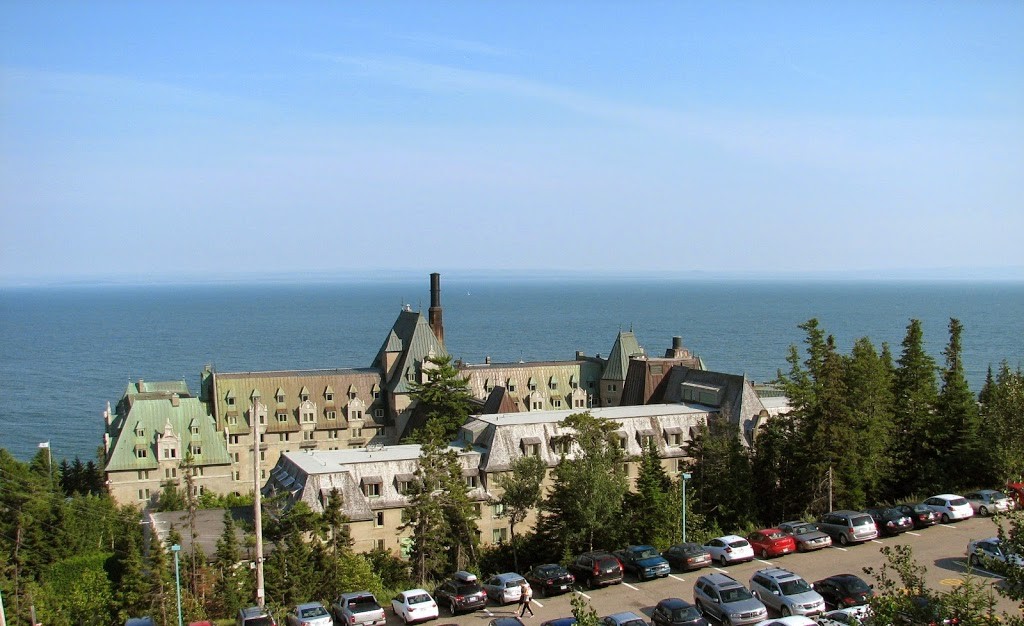 We drove 1 hour to Charlevoix. We rented a nice room in a great hotel. Now your talking. This is a VACATION!!! This is the view we had from our balcony. The first thing we did when we got to our room is first, have a glass of wine and second, have a long shower…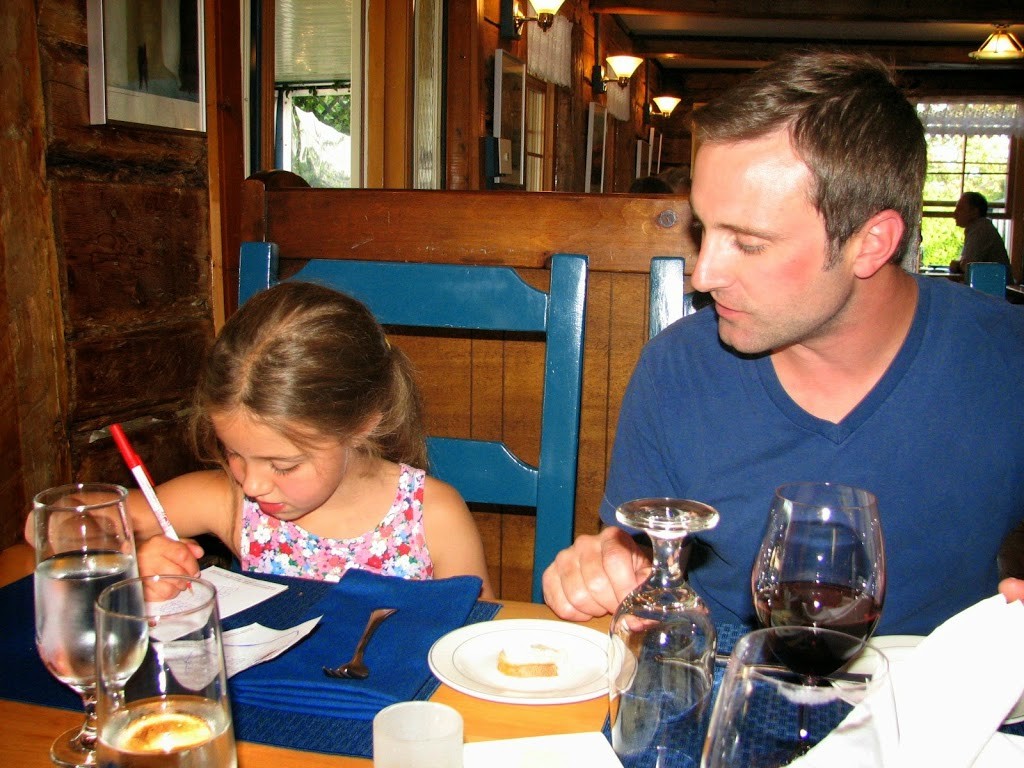 We all had a great meal at a nice little restaurant in Charlevoix. It was so good and felt so great after eating on a dusty picnic table… When we got back to our Hotel, we all went in the pool and spa for again, another great and relaxing moment.
Over all, we had a great time during that trip. We got to experience and see lots of great things, even if camping was not was we expected!!!
Thanks for visiting Do It All Working Mom.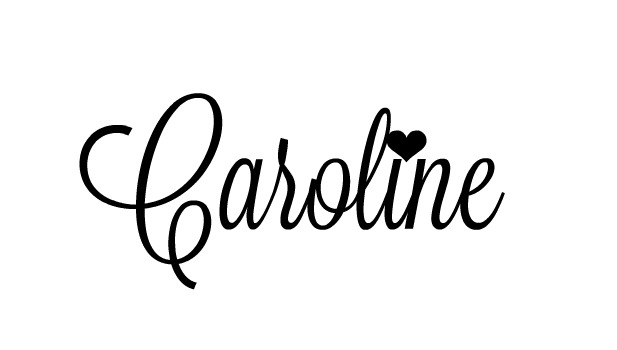 (Visited 546 time, 1 visit today)