Valentine's Day is approaching and we all want to make a delicious and special meal for our family and loved ones, but with our busy lives, we need something easy that doesn't take a day to prepare. That's why I prepared this Easy Valentine's Day 3 Course Meal.
With this menu, your family will definitely know how much you love them., and will be thankful for a delightful dinner.
Menu
Duck Confit Salad with Raspberry Vinaigrette
***
Pesto Shrimp Linguine
***
No-Bake Mini Cheesecakes with Raspberry Coulis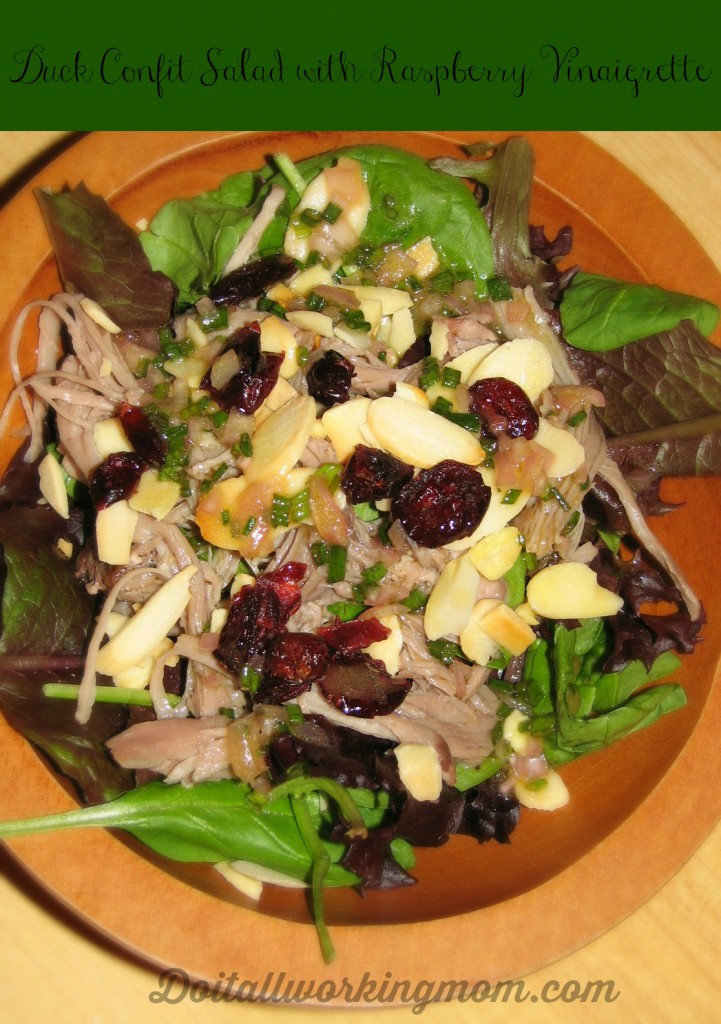 Ingredients
Salad
Mixed greens
2 tablespoons of dried cranberries
1 duck leg confit cooked as per instructions on package
Vinaigrette
1 French shallot diced
2 tablespoon of sliced chives
1 tablespoon of honey
6 tablespoons of good quality olive oil
3 tablespoons of raspberry vinegar
Salt and pepper to taste
1- Mix together the ingredients for the vinaigrette and reserve in the fridge.
2- Remove the duck meat from the bone and pull the meat apart. Reserve.
3- Place mixed greens in 4 bowls. Top with duck meat, almonds, cranberries and vinaigrette to taste.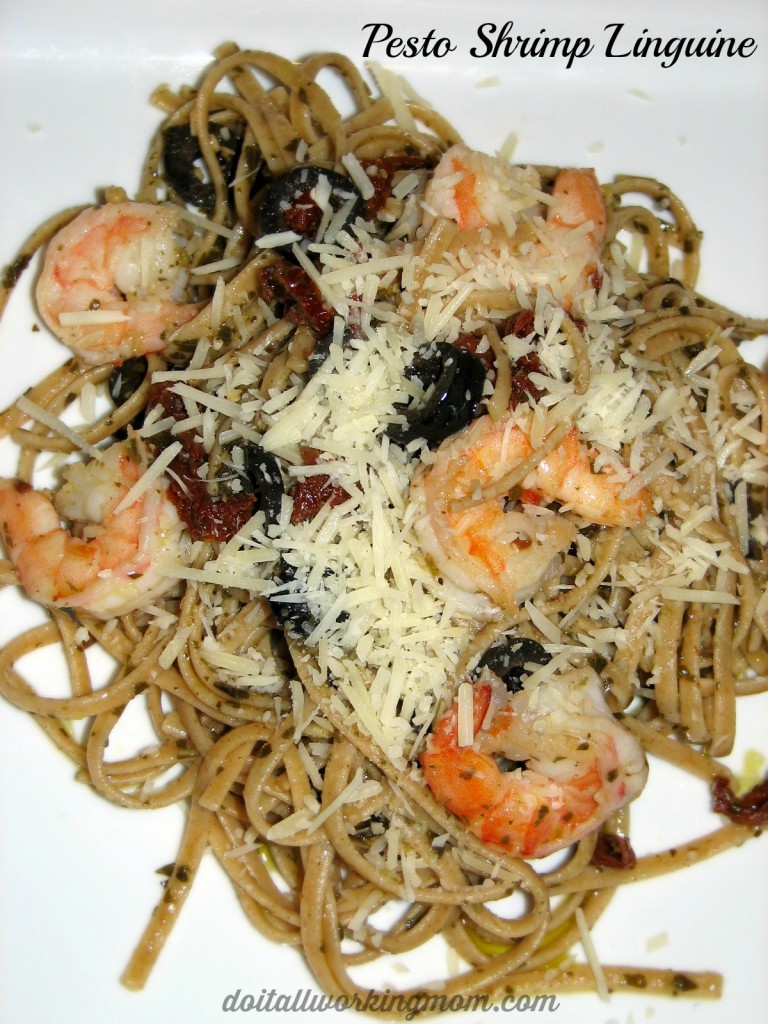 Ingredients
1 cup of cooked shrimps
(I buy the uncooked ones, pealed and deveined and I cook them 1 min. per side in butter and olive oil)
Cooked linguine for 4 person
2 tablespoons of olive oil
3 tablespoons of store bough pesto
1/3 cup of sliced sun dried tomatoes
1/3 cup of sliced black olives
Put cooked pasta in a pot, add the olive oil, pesto, cooked shrimps, olives and dried tomatoes. Mix well and heat for about 5 minutes at low heat. Place pasta in serving plates and top with grated parmesan cheese.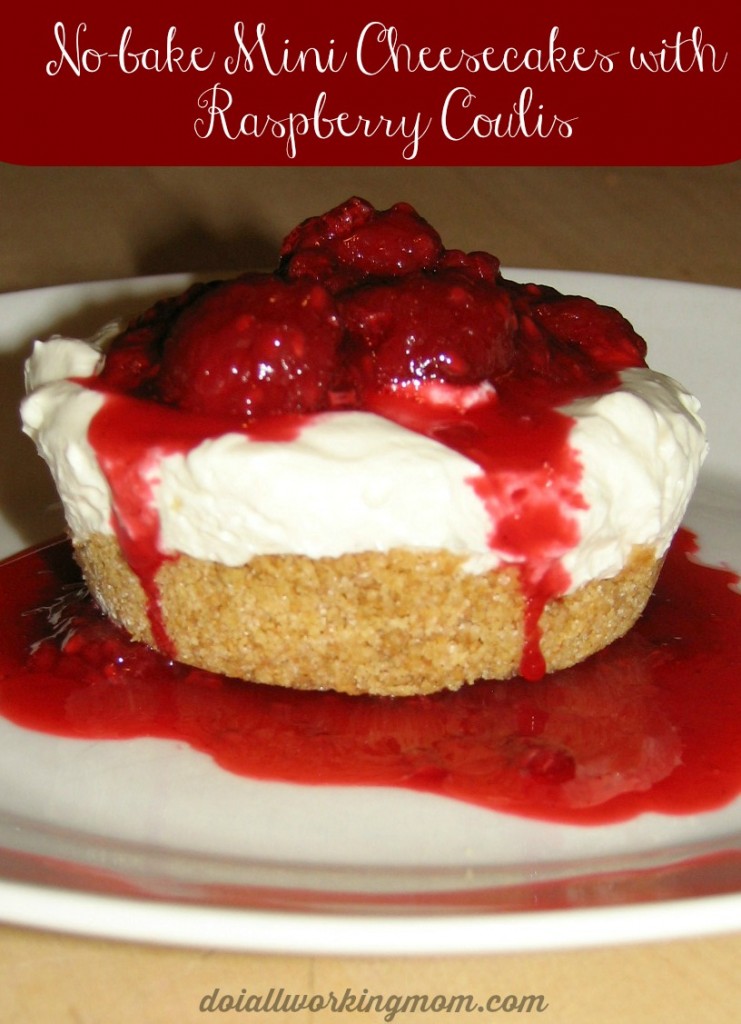 Ingredients
Crust
1 cup of Graham crumbs
1/4 cup of soften margarine
1/4 cup of sugar
Filling
1 container of cream cheese 250 g.
2 tablespoons of lemon juice
1 cup of icing sugar
1 teaspoon of vanilla extract
1 cup of whipped cream (cool whip)
1- Cover a 12 muffin pan with a large piece of Saran Wrap
2- Mix together the ingredients for the crust and press well at the bottom of the muffin tins (over the saran wrap)
3- With a mixer, mix together the cream cheese, lemon juice and vanilla extract. Add the icing sugar and mix well. Add the whipped cream and mix until blended. Poor over crust.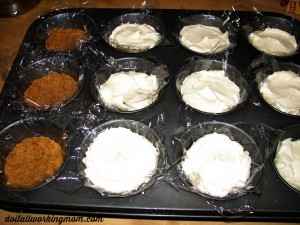 4- Place in freezer for 1 hour and then in the fridge for 2 hours. Delicately remove from muffin pan.
5- Top with Raspberry Coulis.
Raspberry Coulis
1 pack 400 g of frozen raspberries unfrozen
1/3 cup of sugar
1 tablespoon of lemon juice
If you have left over mini cheesecakes, you can keep them in the fridge in an air tight container.
1- With a spoon, mix together all the ingredients and reserve in the fridge until ready to serve over mini-cheesecakes.
I hope you and your family enjoy this delicious meal.
Happy Valentine's Day!
Thanks for visiting Do It All Working Mom.
(Visited 2,283 time, 1 visit today)