Who doesn't like a great stir fry? I sure do. It's such a delicious and healthy dish, just what we need after the Holidays.
I have a really easy and quick chicken stir fry recipe you are sure to love.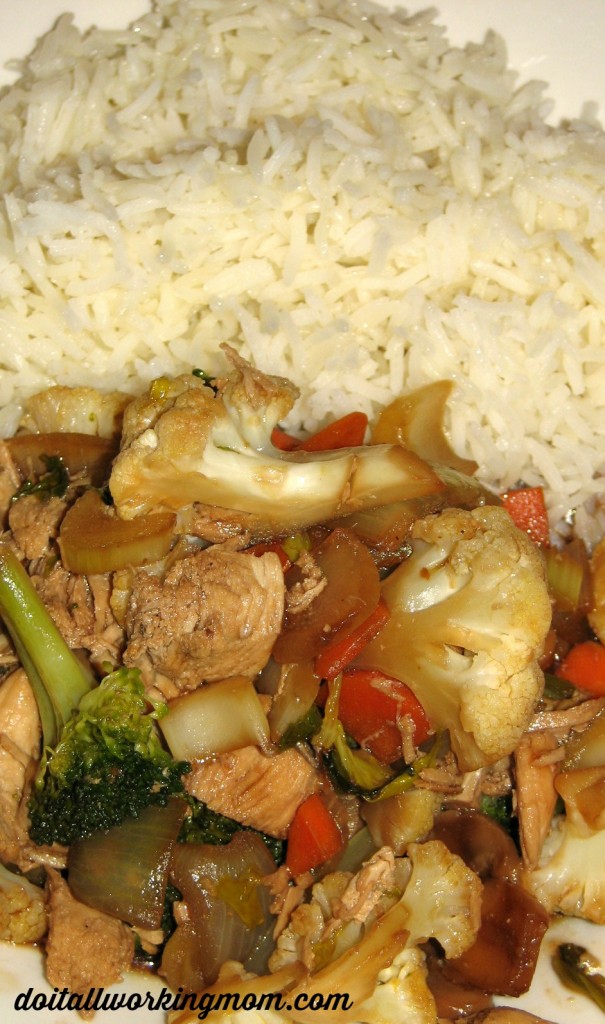 Ingredients
1 green bell pepper cut in squares
1 head of broccoli cut into florets
1 cup of cauliflower cut into florets
2 sliced carrots
3 sliced celery sticks
1 chopped onion
1 cup of sliced mushrooms or 1 can
2 cooked and chopped chicken breasts (or 2 cups of leftover chicken)
3/4 cup of chicken broth
2 tablespoons of soya sauce
1 clove of garlic minced
1 teaspoon of minced ginger
1 tablespoon of cornstarch
1 tablespoon of honey
1 tablespoon of sesame oil or vegetable oil
1- Heat the oil in a wok or large skillet over medium-high heat. Add vegetables and saute until tender.
2- Add chicken, garlic and ginger and continue cooking for 1 minute.
3- In a bowl, mix together soya sauce, honey and cornstarch and stir until smooth. Add the chicken broth, give it a stir and add to your vegetables.
4- Bring to a boil. Cook and stir until sauce thickens (about 5 minutes).
5- Serve over white or brown rice.
Enjoy!
 Thanks for visiting Do It All Working Mom.
(Visited 1,988 time, 1 visit today)