Before I share this great white been dip recipe with you, here are some facts about Cannellini beans.
Cannellini Beans Facts:
Cannellini beans are related to kidney beans
Cannellini beans are also called "white kidney beans"
They have a firm texture and skin
Popular in Tuscan and other Italian cuisine
Basic ingredient of minestrone
High in protein and fiber and low in fat
Cannellini beans are most commonly found dried
(Source cannellini.com)
Now here is my delicious Cannellini Bean Dip with Home Made Pita Chips recipe. You'll find this recipe so easy and delicious, you'll make it every weekend!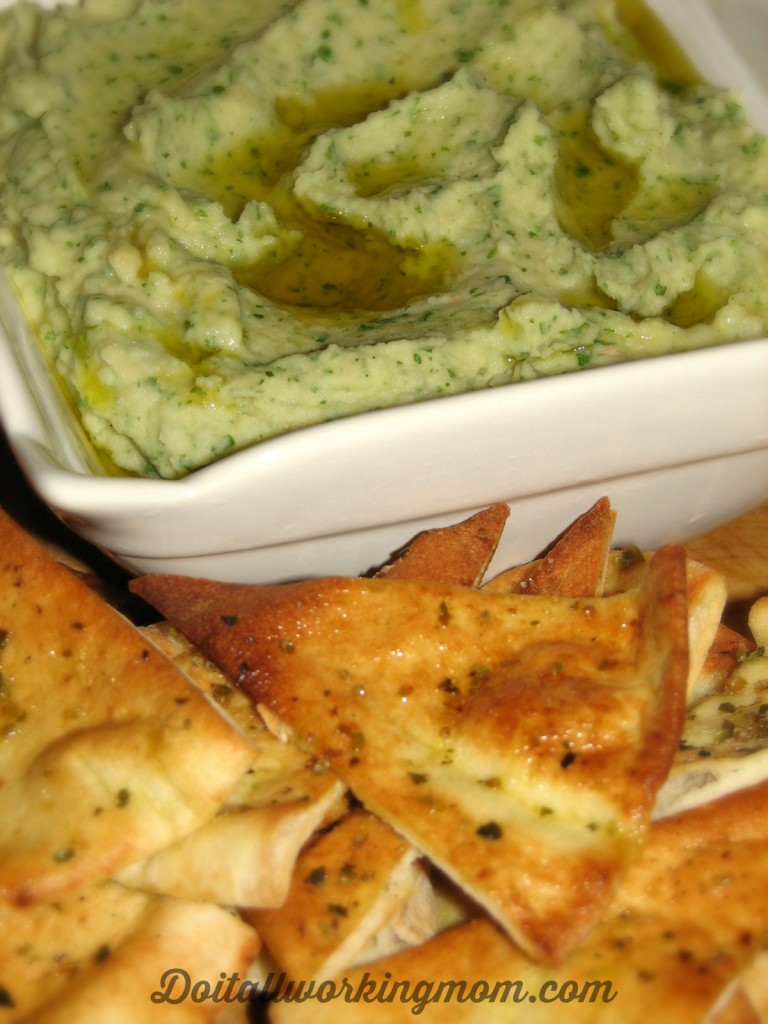 Ingredients
Dip
1 can of Cannellini beans drained and rinsed (15 oz)
1/3 cup olive oil
1 clove of garlic chopped
The juice of half a lemon
1/3 cup of chopped fresh parsley
Salt and pepper to taste
Add all the ingredients to a food processor bowl and pulse until the texture is smooth.
Transfer to a serving bowl and drizzle olive oil on top.
Serve with home made pita chips.
Pita chips
6 pitas
Olive oil
Salt (I use fleur de sel or sea salt)
Pepper
Oregano
Cut the pitas into 8 wedges.
Place on a large baking sheet lined with aluminium paper (you might need two).
Brush the pita wedges with olive oil.
Sprinkle with salt, pepper and oregano.
Cook at 350 until golden (about 8 minutes).
This dip is perfect for entertaining or to bring to a potluck.
Enjoy!
 Thanks for visiting Do It All Working Mom.
(Visited 941 time, 1 visit today)