So after reading yesterday's post, you've decided to make my Christmas Activities Advent Calendar (you can find it HERE). Like I promised yesterday, you will find in this post a list of 75+ Advent Calendar Activity Ideas to choose from. No doubt you will be able to choose 24 out of this big list!
Christmas is my favourite time of the year, and I can't wait for the kids to look at the first tag of our Advent Calendar and read the activity of the day. Then, the fun really begins!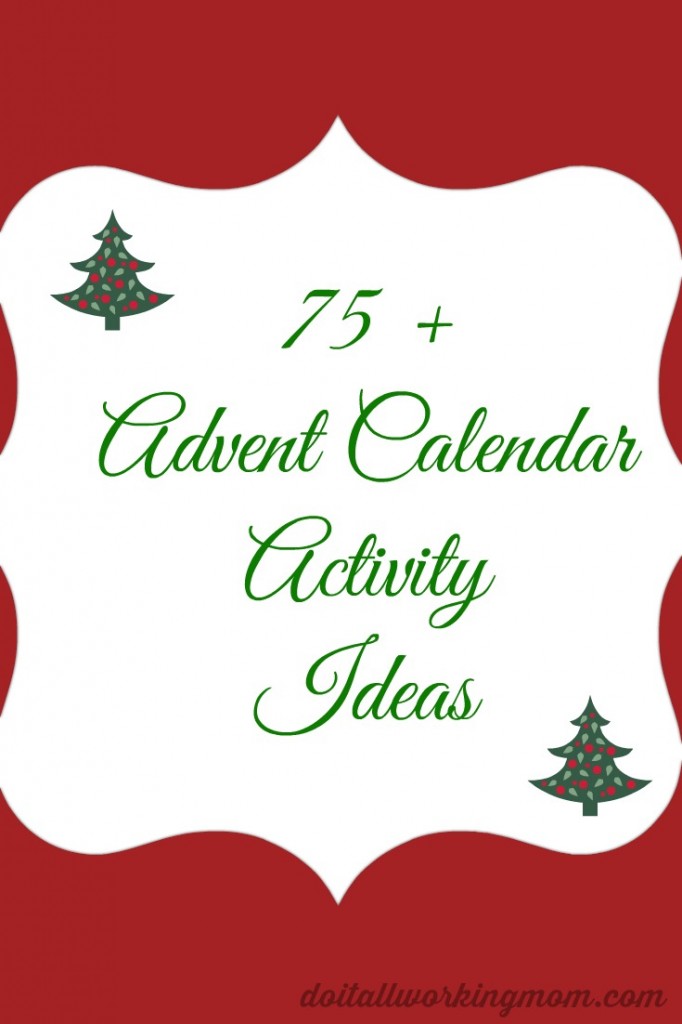 1. Pick Christmas tree
2. Decorate Christmas tree
3. Write and mail letter to Santa
4. Take Christmas pictures
5. Go to the library and pick some Christmas book
6. Make paper snowflakes
7. Bring the kids shopping for presents
8. Go see Santa
9. Bake and decorate Christmas cookies
10. Wrap gifts
11. Christmas craft
12. Make a Christmas drawing
13. Drive around when it's dark and look at all the Christmas lights
14. Make a gingerbread house
15. Make a Christmas treat
16. Have a hot chocolate with marshmallows
17. Eat a candy cane
18. Unwrap and read a new Christmas book
19. Make a gift for the teacher
20. Watch a Christmas movie with popcorn
21. Make a snowman pizza
22. Make Christmas pancakes
23. Make a Christmas decoration
24. Read a story about the birth of Jesus
25. Call grandma and grandpa and sing a Christmas song
26. Go play in the snow
27. Snowball fight
28. Give to others
29. Make a Christmas cake
30. Make Christmas cards
31. Address you Christmas cards
32. Color in a Christmas coloring book
33. Make a paper chain garland to decorate your bedroom
34. Collect pinecones
35. Go to church
36. Make a Christmas tree ornament
37. Feed the birds
38. Listen to Christmas music
39. Make up a Christmas story
40. Drink apple cider
41. Hang a mistletoe
42. Put up Christmas wreath
43. Sing Christmas carols
44. Make snow angels
45. Donate old toys to the less fortunate
46. Donate food to the less fortunate
47. Go ice skating
48. Go on a sleigh ride
49. Play a board game while listening to Christmas music
50. String some popcorn to make a garland
51. Make a snowman
52. Dress in Red or green
53. Go see the Christmas parade
54. Go sledding
55. Roast marshmallows in the fireplace
56. Learn a new Christmas song
57. Make a Christmas wreath
58. Make Christmas gift tags
59. Make Christmas Fudge
60. Have a Christmas scavenger hunt
61. Have a picnic in front of the Christmas tree
62. Read the night before Christmas
63. Make a gift for someone you love
64. Stay up late
65. Decorate your bedroom for Christmas
66. Make little gifts for your classmates
67. Buy a new Christmas ornament
68. Organise a Christmas dinner
69. Buy a new toy for charity
70. Make reindeer food and feed the reindeers
71. Make presents for pets
72. Take a bubble bath
73. Have a dressed up dinner
74. Make popcorn balls
75. Act out the Christmas story
76. Make a tic-tac-toe Christmas game
Hope you find plenty of fun activities for you Christmas Advent Calendar in this list to keep you busy during the Holidays.
Thanks for visiting Do It All Working Mom.
(Visited 3,099 time, 1 visit today)