I like to enjoy a nice glass of wine on Sunday afternoon. The perfect finish to a productive day! I also like to eat tapas or appetizers to accompany the wine. Last Sunday, I came up with this amazing Easy Crab Bites recipe. SO GOOD! Fresh, creamy, crunchy and simply yummy. You have to try this recipe, trust me.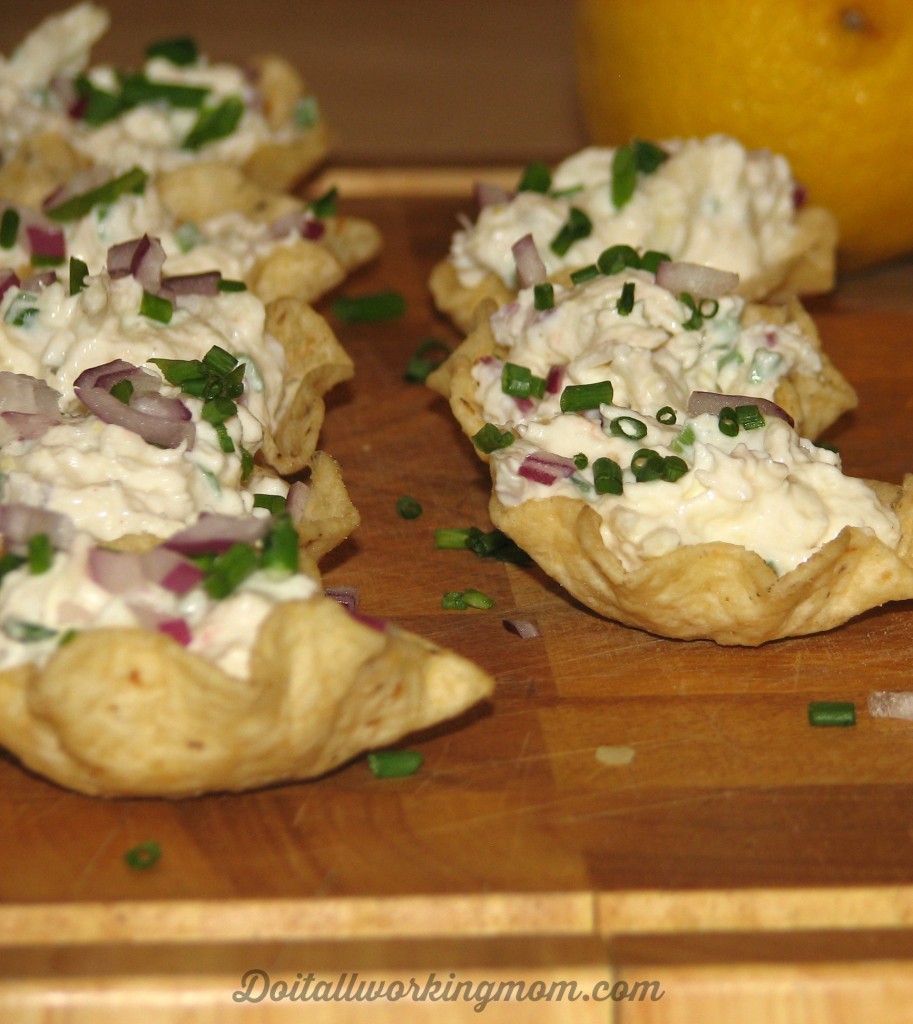 Ingredients
250 g cream cheese
1 can crab meat 120 g. drained
1/2 cup of shredded mozzarella cheese
2 Tablespoons of fresh lemon juice
1/2 teaspoon of lemon zest
2 tablespoons of thinly chopped red onions + 1/2 teaspoon for garnish
2 tablespoon of thinly chopped chives + 1/2 teaspoon for garnish
Salt and pepper to taste (don't add to much salt since the corn chips are salty)
30 Tostitos scoops
Directions
1- In a small bowl, soften the cream cheese.
2- Add the rest of the ingredients, and mix well.
3- Fill each Tostitos scoops with about 1 teaspoon of the crab mixture. Garnish with red onions and chives.
Serve immediately
This is perfect as an appetizer with a nice glass of white wine. You can prepare the crab mixture before, and fill the Tostitos scoops when you're ready to serve them. You don't have to use Tostitos; you can use cucumbers, cherry tomatoes, endives, small pieces of salad, crackers. The possibilities are endless, just use your imaginations!
[amd-zlrecipe-recipe:13]
Enjoy!
Thanks for visiting Do It All Working Mom.
(Visited 3,071 time, 1 visit today)