One of my favourite dishes has to be Coquilles St.-Jacques. What's not to like about it? Shrimps and scallops in a creamy white wine sauce, surrounded by mashed potatoes and topped with cheese. Yummy! Of course, you need to like sea food.
I've simplified this recipe to make it quick and easy but still delicious!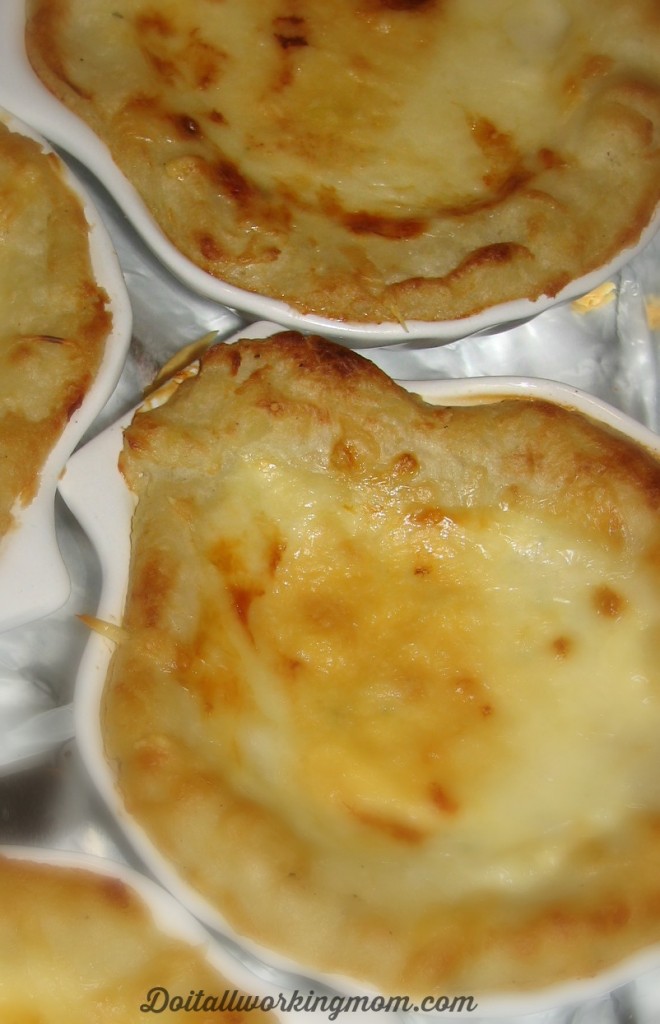 Ingredients (Makes 4 portions)
1 envelope of Knorr Alfredo Sauce Mix
1/2 cup of white wine
1 bag 340 g. of frozen shrimp and scallop sea food mix (like Aquastar) thawed
Salt and pepper to taste
Grated Swiss or Gruyère cheese
5 large potatoes mashed (use your mashed potato recipe adding milk, butter salt and pepper)
Preparation
Cut your potatoes, boil them and prepared mashed potatoes like you normally do.
While your potatoes are boiling, prepare the Knorr Alfredo sauce as per the directions on the envelope replacing 1/2 cup of liquid with white wine.
When your sauce is ready and has thickened, drain your shrimps and scallops and add them to the sauce. Simmer for 5 minutes.
With a large spoon, put your mashed potatoes in a large Ziploc bag; make an opening in one of the bottom corners of the bag. Add mashed potatoes all around your ceramic baking shell or dish. Arrange the potatoes with your fingers if needed leaving room in the middle for the sauce.
Fill the middle of your baking dish with the sea food sauce.
Cover with grated Swiss or Gruyère Cheese.
Preheat the broiler and broil until the sauce starts to bubble and the cheese is golden.
Enjoy!
 Thanks for visiting Do It All Working Mom.
(Visited 5,928 time, 1 visit today)