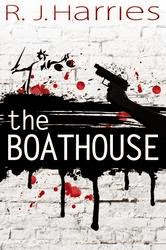 If you like to read a good suspense and thriller with many twists, THIS IS THE BOOK YOU NEED TOO READ! The story line is great and it's really well written. From the moment you start reading, you get pulled into this great murder and kidnapping investigation. It's almost impossible to put the book down.
This book is about Sean Archer, a criminologist who's journalist girlfriend gets brutally murdered while researching a torture facility called the Boathouse. After that moment, Sean's only goal becomes to investigate the Boathouse and find his girlfriend's killer. What he will discover, and most of all, the people he will meet along the way, have a lot to hide and are dangerous. But Sean seams to be the only one who can discover the truth behind the Boathouse.
I feel really privileged to have had the chance to write a review on such an outstanding book, and I recommend it 100%.
You can buy it for $5.10 on Amazon. I added the book in my Amazon store, just click on the Amazon Store button at the top of this page. Trust me, you need to read it!
Caroline
(Visited 173 time, 1 visit today)